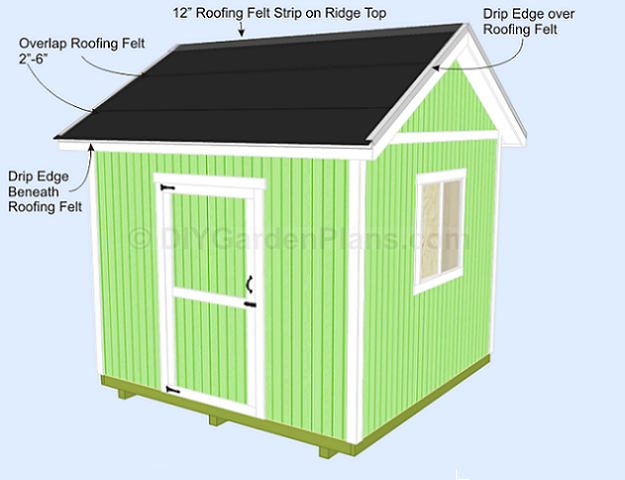 Install the roofing felt as shown above. Use a roofing stapler to secure the roofing felt in place. Overlap the roofing paper 2″-6″.  Cut a 12″ strip for the top ridge.
The drip edge on the sides will go over the roofing felt. The front and back drip edge will be beneath the felt.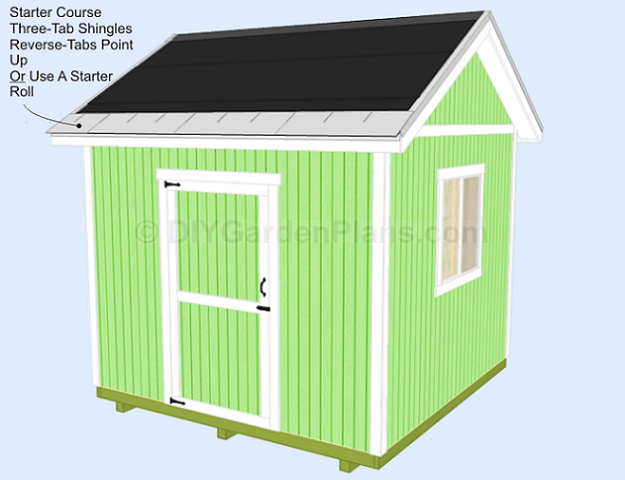 Use a starter roll or reverse three-tab shingles with the tabs up as a starter course.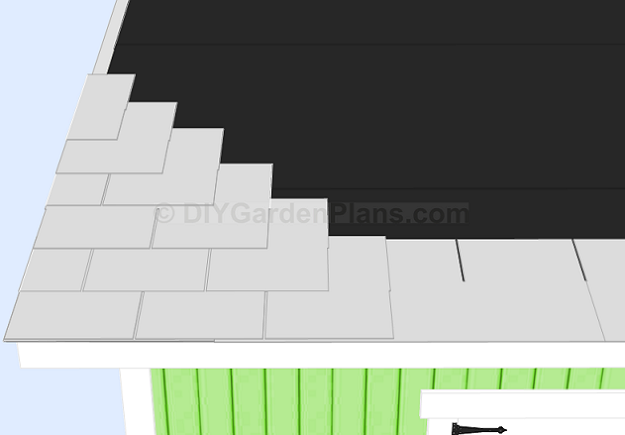 Follow the manufactures instructions to install the shingles. One pattern for the roof shingles is shown above. Start with a full 3 tab shingle, next course 2 1/2 tabs next course 2 tabs, next course 1 1/2 tabs, next course 1 tab, next course 1/2 tab, then repeat with a full 3 tab shingle. Shingles should overhang from the drip edge about a 1/4″. Use roofing tacks to secure shingles.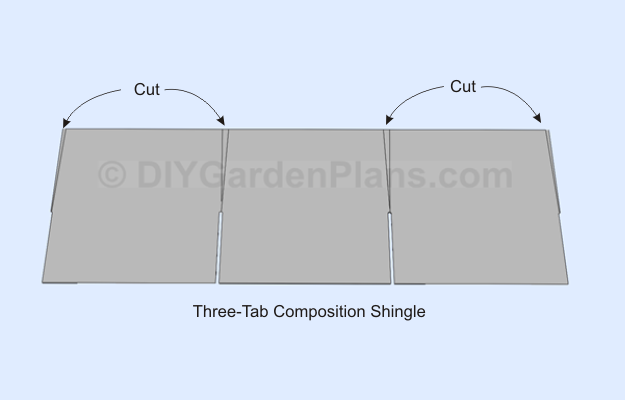 Use a 3 tab shingle to make the ridge caps for the top of the shed ridge. Cut roof shingles as shown above.
Install ridge cap as shown above. The last ridge cap will have the roof tacks exposed, cover them with roofing tar to prevent tacks from rusting.
Project Index

Front/Back Wall and Door (Cont…)…..6

Front/Back Wall and Door (Cont…)…..7

Front/Back Wall and Door (Cont…)….8

Side Wall and Window (Cont…)….10

Side Wall and Window| Left Wall| (Cont…)…..11

Trim and Soffit (Cont…)-corner trim…..17

Roof Shingles….18
PDF Download:

Save To Your Computer

–

Print Out When You Need Them

Instant Download

– Safe and Secure Payments and Downloads

See The Project Index Above For Plan Sample (sample for 10'x10′)
Type:

Size

Width X Depth:

Price:

Gable Shed Plans 005

12'x10′ More Info
$12

Gable Shed Plans 005

10'x10′ More Info
$6

Gable Shed Plans 005

10'x8′

More Info

$12

Gable Shed Plans 005

8'x10′ More Info
$12

Gable Shed Plans 005

8'x8′ More Info
$12

Shopping List
Type:

Size

Width X Depth:

Gable Shed Plans 005

12'x10′

Gable Shed Plans 005

10'x10′

Gable Shed Plans 005

10'x8′

Gable Shed Plans 005

8'x10′

Gable Shed Plans 005

8'x8′